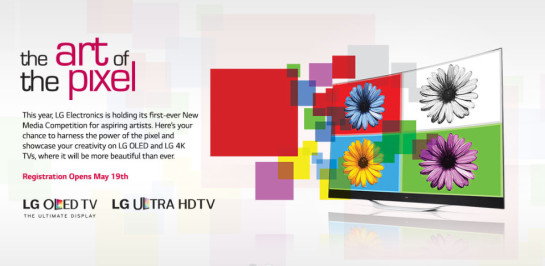 Win Up to $10K and a Trip to New York City with LG
If you're a student of any of the following top art schools in the U.S., be sure to keep reading as this could help you win $10 000 in cash from LG. The schools which are eligible for the offer are California Institute of the Arts, Laguna College of Art and Design, Maryland Institute College of Art, Pacific Northwest College of Art, Parsons, Pratt, Rhode Island School of Design, San Francisco Art Institute, and School of the Museum of Fine Arts.
And the offer? Or the opportunity, however anyone wants to call it, is the chance to take part of LG's first-ever New Media Competition for aspiring artists. If you happen to qualify, your task is to create still and motion artwork meant for display on LG's ULTRA HD as well as OLED TVs. The Art of The Pixel competition was created to challenge the young artists, to inspire and empower their creativity. And of course, also offer the best ones from each school nice cash prizes. Without going into details, you can read more about the exact prizes at www.lgusa.com/LGSupportsTheArts.
The submissions are being accepted from June 1, 2014 and everyone interested and eligible still have couple of weeks, until the clock ticks July 14, 2014, to submit your work. The public voting will begin already on July 1st and will be open until July 31, 2014.
Disclosure: This post was requested by an advertiser.