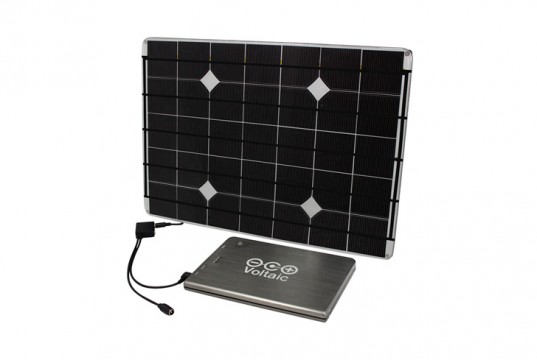 Latest home gadgets for 2013
With every New Year, fans of technology tell the world it's going to be a revolutionary 12 months full of gadgets the masses have never seen before. Well, this year that claim looks to have more than a ring of truth about it. With the seemingly endless march of progress it's possible to argue that homeowners truly will be stepping into the home of the future, now.
It's not just the convenience factor people will be looking to exploit, either. In these times of heightened environmental awareness, home gadgets need to have been designed with green credentials in mind. From solar charging kits and energy-saving light sensors to innovative broadband UK options and smart thermostats, this kind of kit looks like it will ensure that 2013 is going to be the year of the green home gadget. Here's a look at some of the latest and greatest.
Voltaic Solar Charging Kit
One of the most sought after gadgets this year is definitely going to be the 16.8-watt solar charging kit from Voltaic. This compact and affordable alternative to a complete photovoltaic system comes equipped with a V60 battery that is powerful enough to charge cameras, cell phones and computers simultaneously. It's also portable and lightweight, making it suitable for travel.
Lockitron
This cool little gadget fits easily over an existing deadbolt and allows the owner to control the door lock with his or her smartphone. Gone are the days of worrying over whether someone has forgotten to lock the front door on the way out and fretting over leaving the house key inside! While it doesn't have a particularly green function, this gadget is still a handy one to have.
Maestro C.L. Dimmer
Using a dimmer is always a good way to cut energy costs while creating a little ambience in a room, which is why Lutron's Maestro C.L. Dimmer is such a hot item for 2013. Designed for use with traditional incandescent bulbs, halogens and both dimmable LEDs and CFLs, this gadget is equipped with a sensor that allows owners to leave the room before the lights go off completely. To make the most of this energy-saving device, it is definitely worth investing in either LEDs or CFLs to help cut energy usage and costs significantly.
Nest
Thermostats don't usually make the list of top home gadgets, but Nest is a little different. It is a smart thermostat that learns based on the habits of the homeowners and then controls the temperature within the home accordingly. Owners can also control this thermostat from a remote location via their smartphones. Controlling the thermostat intelligently can definitely lead to lower heating bills during cold winter months.
Shower timer and alarm
Individuals who are transported to another world once they step into a hot shower can kiss the days of wasting time and water good-bye thanks to the Efergy Shower Timer and Alarm. On average, almost eight gallons of water are used per minute for every shower someone takes. Simply calibrate the Shower Timer and Alarm to the shower, set a timed goal and hang it somewhere handy. In no time, the alarm will sound when the goal has been met, thus training owners to take quicker, more efficient showers.
Sources:
http://www.voltaicsystems.com/kits.shtml

http://www.lutron.com/en-US/Products/Pages/StandAloneControls/C.Ldimmers/Overview.aspx

http://www.nest.com/

http://www.which.co.uk/home-and-garden/heating-water-and-electricity/reviews-ns/efergy-showertime/

This article was produced in association with Sky.