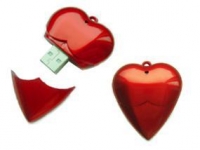 Best gadgets for women
The stereotype that only men are into gadgets is just that, an age old stereotype. Today, women are big fans of gizmos and the latest in high-tech devices, so much so that special products have been created to appeal to the feminine sensibilities and tastes.
Heart shaped USB pendant
- Hearts and women seem to go together as seamlessly as peanut butter and jelly. This rose colored creation combines the prettiness of the heart symbol with the functionality of a pen drive, giving you a 4GB large pen drive that can be worn around your neck as a fashion accessory. The pen drive is ensconced in the pink exterior and is revealed when the bottom half is detached. It costs about $15 dollars and is perfect for all the flamboyant individuals out there.
Solar bags
- This fashionable bag is for the environment conscious and tech savvy women. Mini solar panels attached to it collect sunlight, turning it into usable energy to charge devices like phones, music players and more. It also serves the very fashionable purpose of never having to rush off to charge your phone when its battery is about to die or any similar problems. Invest in this handy device, which allows you to charge about 5 devices. Costing about $300 this was a brainchild of Joe Hynek, a United States student.
Flore Radius Headphones
- With names like the HP-HWF31 Elegant and the HP-HWF11 Cute its quite obvious these will be pulling in members of the fairer sex as fans. These headphones from Radius are equipped with a jewel encrusted ribbon clip design as decoration, which can then be used as a regular organizer clip or to adorn your hair with. Giving you absolute clarity, these headphones are not attractive, they're effective. The Elegant range of headphones costing $18 are available in lush violet and red colors while the Cute range, costing $27 is offered in yellow, violet, blue and pink colors.
Bluetooth Stereo Fashion Sunglasses
- Offered by manufacturer Trispecs, this nifty device combines a stylish pair of sunglasses with a Bluetooth head set enabling you to look sexy as you stride down the street or be perfectly safe as you drive car and talk on the phone. Adding to its qualities are the fact that it allows you to also listen to your musical player if you choose so thanks to its handy controls on the handles of the shades. They are available for between $199- $224.