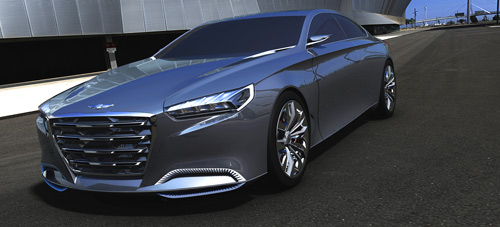 Are you up for some innovative designs and never-before seen cars?
From world debuts to North American debuts, and everything in between, before, and after. That's how this year's North American International Auto Show could be described. It was open from January 14th through January 27 and offered the attendees 500 vehicles on display, including 59 new vehicle introductions (of which 50 were world debuts, 9 North-American debuts), brought there by 40 manufacturers.
The most expensive car of the floor of 2013 Naias Detroit was Bentley Mulsanne, hand-crafter luxury vehicle that takes 500 hours to complete. The price tag for the car, of course, is worthy of the craftsmanship, and says $368,000.
One of my favorite concept cars of the show was probably Hyundai Genesis HCD-14 Concept, which represents Hyundai's design direction for their future premium vehicles.
The car show was held as an international annual event for the 25th year, but it's been around actually a lot longer. Naias Chairman Jim Seavitt said that "Twenty-five years ago the Detroit Auto Dealers Association made a promise to the global manufacturers. We said, 'you bring the unveilings, and we'll bring the media." Based on this year's show, they have definitely kept their promise.
All this years cars, concepts, designs and interesting technological innovations can be seen at Naias website. But why not start your journey here -
Disclosure: This post was requested by an advertiser.